Pews for Places of Worship in Australia

Kongka Furniture is pleased to announce that Project Coordination (Australia) Pty Ltd has been appointed as its Australian Agent.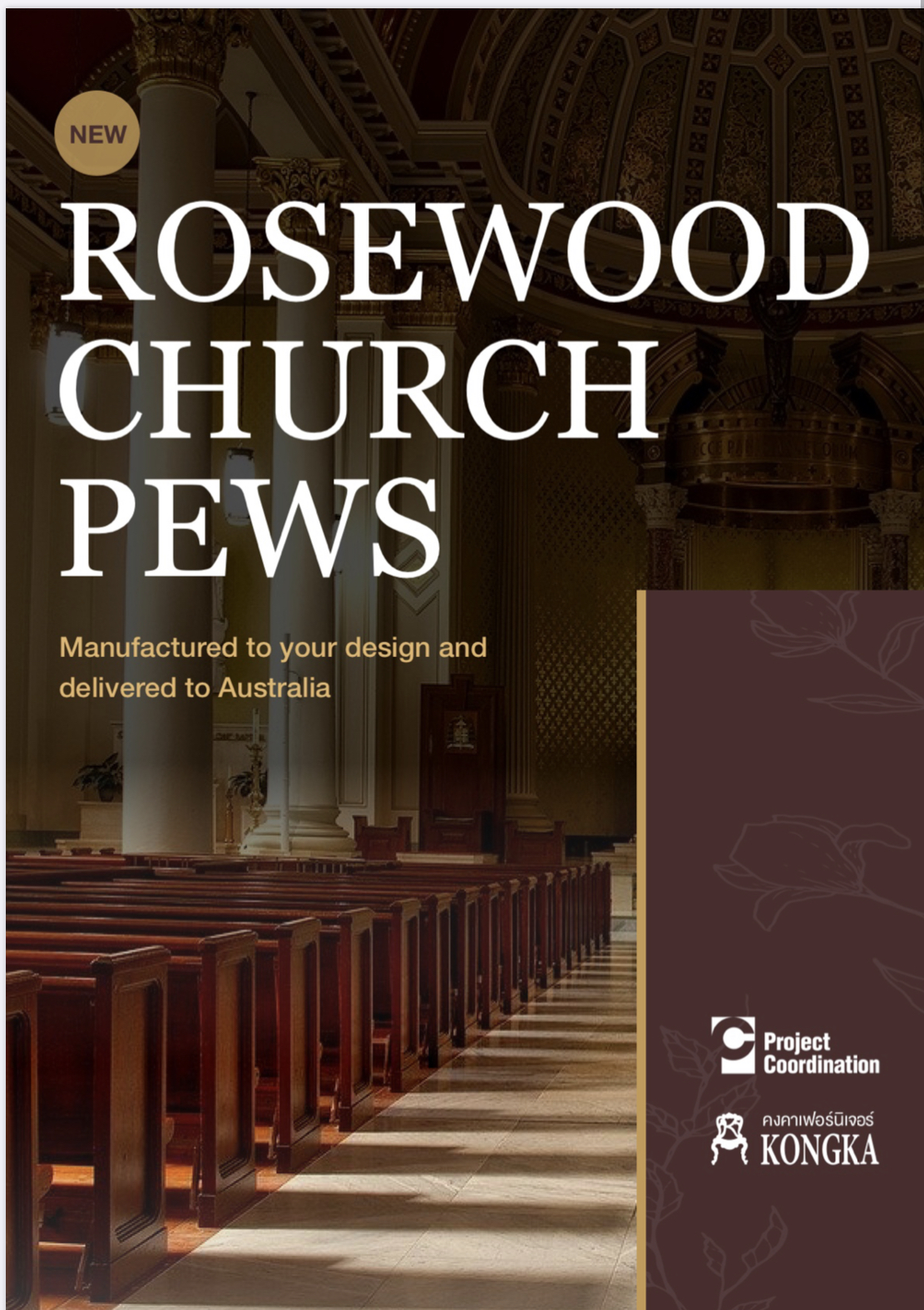 Project Coordination is a privately-owned Australian Construction Company that has been operating for 45 years. It has carried out more than $2 billion AUD (45 billion THB) of construction works on more than 760 projects and won over 100 Excellence in Building Awards. It has an annual turnover in excess of $120 million AUD (2.6 billion THB).


The Company operates in the commercial, multi-residential, industrial, health, education, private, government and diplomatic sectors. Its largest current project is the $50 million (1.1 billion THB) "Estate" apartments opposite Parliament House in Canberra, the National Capital of Australia.



WHY KONGKA and Project Coordination ?



The formation of a business relationship between Kongka and Project Coordination is founded on the basis of Kongka's classic design, materials and quality of manufacture, together with Project Coordination's knowledge of Australian industry through its substantial experience of supplying joinery as part of its construction projects.

A strong trust has developed between the two companies, together with the seamless manner in which the pews were quoted, designed, manufactured and delivered door-to-door from the factory in Bangkok to the Crematorium in Canberra.


OUR FIRST TASK:


Norwood Park Crematorium, Canberra, Australia



Kongka Furniture recently won the contract for the manufacture and delivery of 30 pews for the Norwood Park Crematorium Extension Project in Canberra, Australia. The pews were manufactured to match the design of the existing pews and made from very durable and richly coloured rosewood. The order was for a door-to-door service with all licences, import requirements and logistics organised by Kongka Furniture.
"I found that doing business with Madee Lo at Kongka Furniture was a real pleasure. Madee and her Australian Agent were easy to deal with and kept me informed throughout the whole process"
Stephen Beer – General Manager Norwood Park Crematorium, Canberra, Australia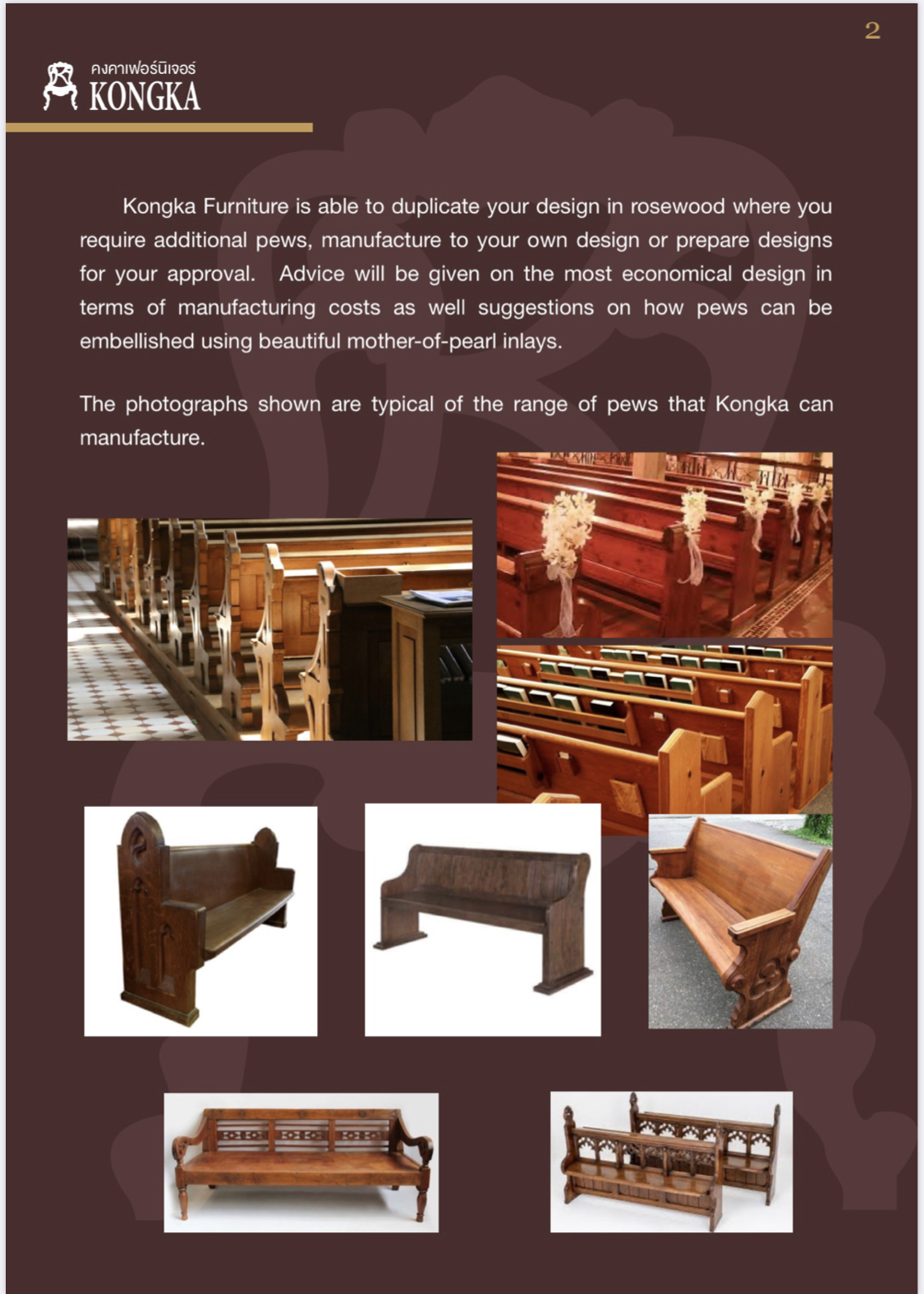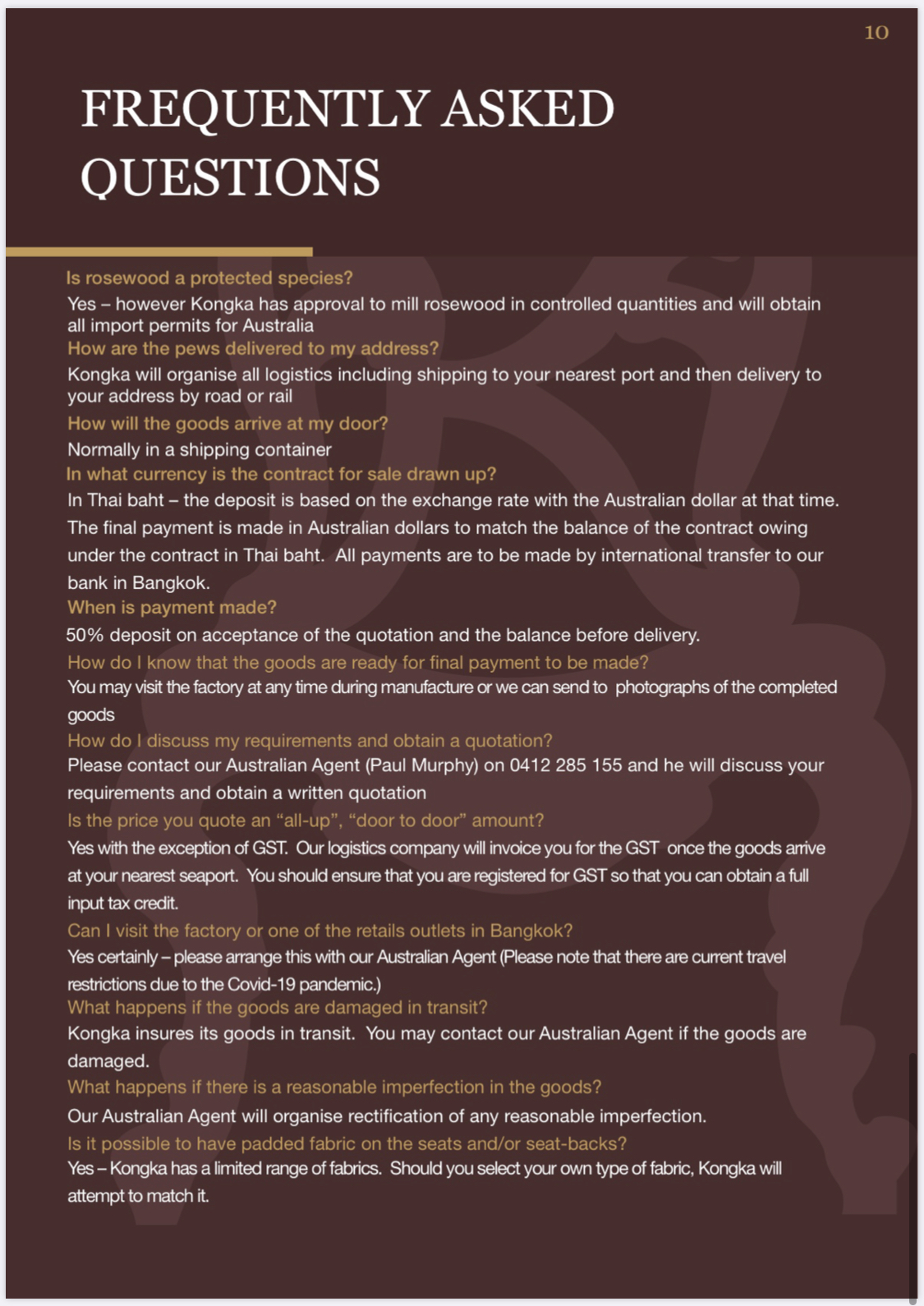 Details are as follows for Australian Market:
Project Coordination (Australia) Pty Ltd
20 Napier Close
DEAKIN ACT 2600
(Postal Address: GPO Box 179 CANBERRA CITY ACT 2601)
Website: www.projectcoordination.com.au

Contact: Paul Murphy 0412 285 155
Email: pmurphy@projectcoord.com.au